Shorter days and cooler nights have definitely arrived with October, and in Northwest Louisiana, the month is filled with time-honored celebrations that hold special significance to area residents.
Shreveport boasts the Red River Revel Arts Festival, an eight-day event that includes hundreds of the country's top artists, craftsmen, entertainers, and culinary masters. The festival is the largest arts festival in the South and was proudly given to the city as a bicentennial gift from the Junior League of Shreveport-Bossier in 1976. It is undeniably one of the most cherished and most successful festivals in the state, and it has also garnered considerable national recognition, having been featured on ABC's Good Morning America!, lauded as one of the "Top 100 Fine-Arts Festivals" in Sunshine Artist magazine, and named as one of the Top 20 events by the Southeastern Tourism Society. You'll also find a
remarkable variety of delicious food, hands-on activities for children, and big-name live entertainment.
However you choose to celebrate in the month of October, you'll always win with these two recipes from the Junior League of Shreveport-Bossier's award winning cookbooks.
This Corn Chowder recipe from A Cook's Tour of Shreveport will keep your family warm and stomachs full now that cooler weather is here.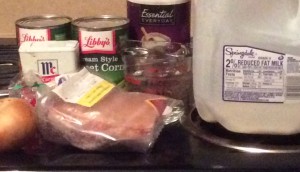 Recipe: Serves 6-8 generously
Ingredients:
1 ½ -inch cube of salt pork, cut
2 cups cream style corn
1 small onion, sliced
4 cups scalded milk
4 potatoes, cubed or sliced
2 cups water
3 tablespoons butter
Salt & pepper
Directions:
1. Sauté pork in deep pan and add onion.
2. Cook slowly for 5 minute, stirring often.
3. Remove the onion and pork (but crisp bits of salt pork and onions are delicious if left in)
4. Add potatoes and water to fat.
5. Cook until soft.
6. Add corn and milk.
7. Heat, season and add butter.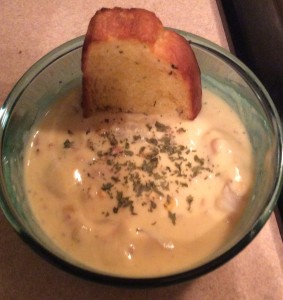 ---
Superior Steakhouse's Krispy Kreme Bread Pudding is another great Mardi Gras to Mistletoe dessert that is sure to be a hit among all age groups.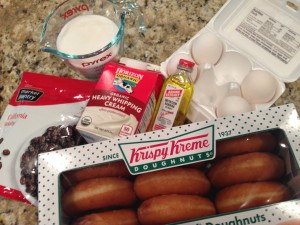 Recipe: Serves 4
Ingredients:
12 Krispy Kreme doughnuts
½ cup raisins
1 cup sugar
4 eggs, lightly beaten
1 ½ teaspoons banana flavoring
2 cups heavy cream
Cinnamon-sugar to taste
Directions:
1. Cut the doughnuts into quarters and arrange in a baking dish sprayed with nonstick cooking spray.
2. Sprinkle with the raisins.
3. Mix the sugar, eggs and flavoring in a bowl.
4. Bring the heavy cream almost to a boil in a saucepan and add to the egg mixture gradually, whisking constantly.
5. Pour the cream mixture over the doughnuts and sprinkle with cinnamon-sugar.
6. Bake, covered, at 325 degrees for 30 minutes.
7. Remove the cover and bake for 10 minutes longer.