The Red River Revel: A Celebration of the Arts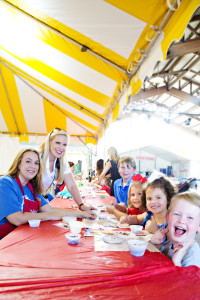 Artist for a Day offers FREE art education to children attending the Red River Revel by providing a hands-on art experience at the Artist for a Day Tent. Artist for a Day hosts a visiting artist each day who demonstrates her craft, and Junior League volunteers assist children as they work.  A different art medium is taught each day and includes watercolor, pointillism, painting, pottery, and mosaic.  We are proud to feature local art teachers and artists in our community.
Please stop by to see what's going on at Artist for a Day!  The Revel will be October 1-9, 2022.
The Red River Revel, winner of the 1988 President's Volunteer Action Award, began in 1976 as the Junior League of Shreveport's Bicentennial gift to the citizens of the region. The goal of the festival is to provide the general populace a celebration of the finest visual and performing arts experiences.
For more information about the Red River Revel, please visit the official website.