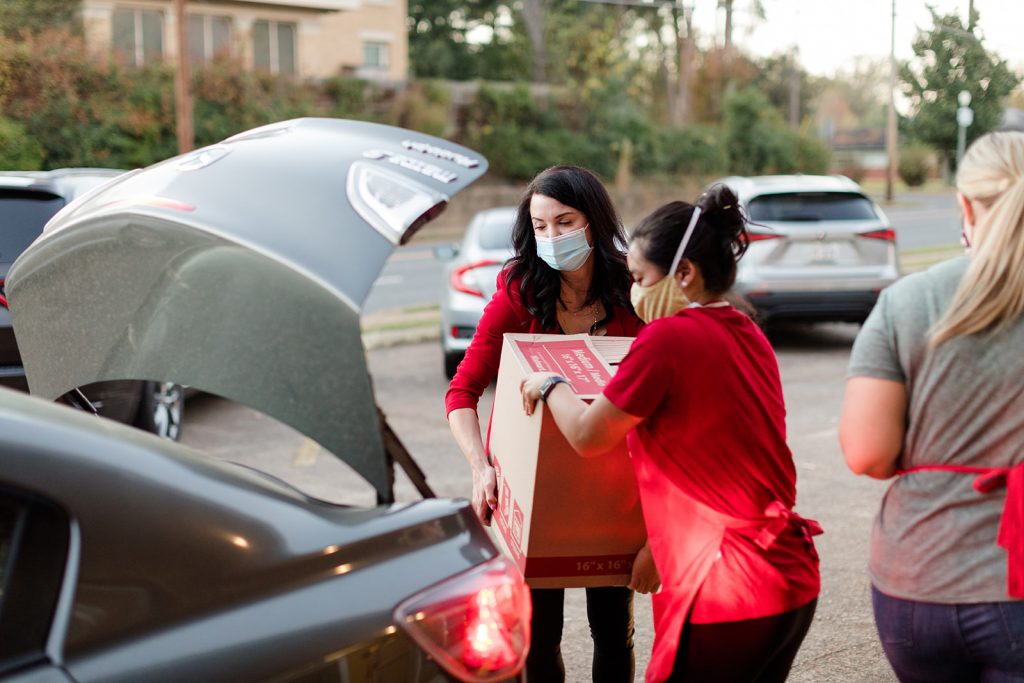 Did you know that a significant portion of Shreveport- Bossier is considered to be a "food desert"? The Centers for Disease Control and Prevention define food deserts as "areas that lack access to affordable fruits, vegetables, whole grains, low-fat milk, and other foods that make up the full range of a healthy diet." That means that there are quite a number of people in our community who are not able to sustain a healthy diet due to financial hardship, no reliable form of transportation, or lack of know-how in order to use/cook items such as fruits and vegetables, there are people in our community that go without even during normal times.⁠⁠
⁠⁠
The Junior League of Shreveport-Bossier is here to provide that help with our very own Red Apron Pantry: a League-organized, year-round monthly food pantry. Since it started operations in 2018, the Red Apron Pantry has been successful in serving families in our area. At the end of 2019, they were providing 75 pounds of healthy food to 15 families each month. The food pantry experienced a spike in early 2020, when more than 1,200 pounds of food were distributed. The Red Apron Pantry is happy to announce that, during this unprecedented time, they were able help the Food Bank of North Louisiana distribute emergency food when other food banks closed. Thanks to the donors who so graciously gave and to volunteers within the Red Apron Pantry and throughout the League, nearly 7,000 pounds of food was passed out in the months of March and April 2020!⁠⁠
⁠⁠
The Red Apron Pantry has been an important and special community project from its very beginning. Through this program we provide necessary, monthly supplemental nutrition to households in need, which addresses a core problem of food insecurity in our community. The COVID-19 crisis has magnified this problem and created even greater needs in our community. Our League is honored to do what we can to minimize the impact of the crisis by continuing to provide food to our regular clients and many more new clients finding themselves in need at this time.