Mardi Gras to Mistletoe Cookbook
BACK IN STOCK AND AVAILABLE FOR ORDER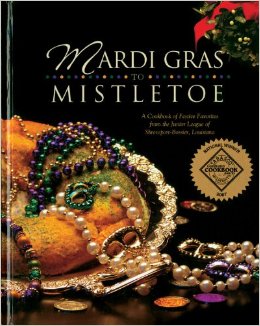 2007 National Winner Tabasco® Community Cookbook Awards
2008 Finalist USA Book News Best Book Awards
2009 National INDIE Excellence Finalist
Mardi Gras to Mistletoe: A Cookbook of Festive Favorites from the Junior League of Shreveport-Bossier, Louisiana includes more than 200 recipes for entertaining, with a photographic tour of the area through its special celebrations. Each of the 12 chapters portrays a month of the Northwest Louisiana year, beginning with the area's unique heritage and festivals, followed by a delightful arrangement of seasonal recipes, cooking tips, and culinary trivia. Recipes were contributed by League members, their families, and favorite local restaurants. The text highlights the region's 300-year history and celebrates the beauty of Shreveport, Bossier City and the surrounding areas. Retail Price: $26.95
Purchase a Mardi Gras to Mistletoe cookbook today!
Revel Cookbook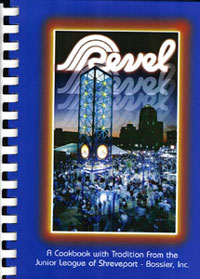 Revel, first published in 1980, was reissued by popular demand in a 20th anniversary edition in 2000. The cookbook is named after the now world-famous arts festival founded by the Junior League of Shreveport-Bossier and given to the city in 1976 as a bicentennial gift. It has sold over 50,000 copies.
Revel features 29 party menus for spring, summer, autumn, and winter. Menus include a mother-daughter tea, a tailgate picnic, and a Cajun Christmas. It has over 600 delicious triple-tested recipes chosen from more than 5,000 submitted. Retail Price: $14.95
Purchase a Revel cookbook today!
A Cook's Tour Cookbook
BACK IN STOCK AND AVAILABLE FOR ORDER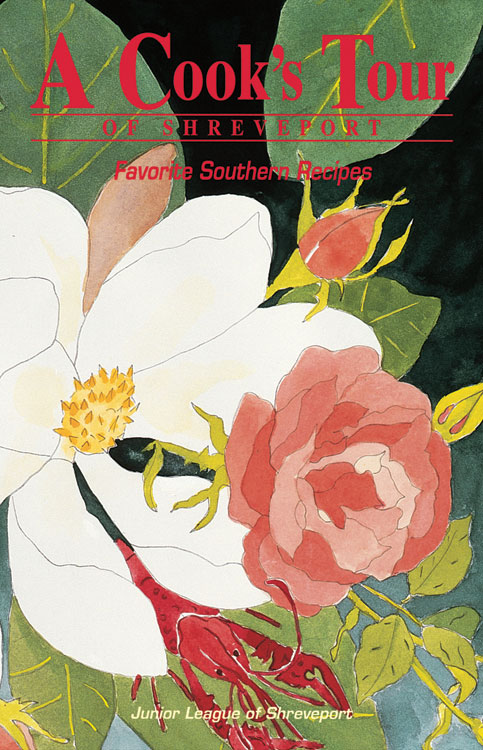 A Cook's Tour of Shreveport: Favorite Southern Recipes was first published in 1964. Shreveport is known for its unique combination of traditional Southern cooking and Cajun-spiced dishes. A Cook's Tour is a journey back into your grandmother's kitchen, with classic Southern cookin' alongside old-fashioned sweets recipes to treasure. Retail Price: $19.95
Purchase A Cook's Tour cookbook today!
JUNIOR LEAGUE COOKBOOK SWAP
Our League also carries an inventory of Junior League cookbooks from across the nation. Please click the link below to view our list of cookbook swaps. To purchase any of these swapped cookbooks, please call the League office at (318) 221-6144 or stop by 2601 Line Avenue in Shreveport Monday through Thursday from 8:00 a.m. – 2:00 p.m.
JUNIOR LEAGUE OF SHREVEPORT-BOSSIER COOKBOOK BUNDLE

Looking to for some serious savings while scoring all three JLSB cookbooks? Then the cookbook bundle is for you. Order today to receive all three cookbooks!  Retail Price: $55
Purchase a Cookbook Bundle today!