While the official end of summer isn't marked until later in September, we traditionally say goodbye on Labor Day, the first Monday of the month. Over the years, it has evolved from a celebration in honor of the working class into a "last fling of summer" holiday. And just as in any other part of the country, food and fun prevail in Northwest Louisiana.
It's no secret that sports are important to the people of Shreveport-Bossier. After all, this is "Sportsman's Paradise." When it comes to team competition, Northwest Louisiana fans go wild over football. For the really die-hard fans, there's nothing like a day trip to the game for a rowdy tailgating party. The region offers several opportunities to experience live college football, such as at Louisiana Tech in Ruston, Grambling University in Grambling, and Northwestern State University in Natchitoches. Of course, for those willing to travel to South Louisiana, there's nothing like a LSU and Tiger Stadium on a Saturday night. Known throughout college football as "Death Valley," it is rumored that the thunderous fans once caused an Earth tremor that registered on a seismograph across campus in the Department of Geology.
However you choose to celebrate in the month of September, you'll always win with these two recipes from the Junior League of Shreveport-Bossier's award winning cookbook, Mardi Gras to Mistletoe.
Superior Grill's Chili Con Queso is guaranteed to be a hit at any gathering you attend this month, or any other month.
Recipe: (makes about 8 cups)
Ingredients:
¼ cup butter
2 tablespoons chopped onion
2 tablespoons all-purpose flour
1 (8-ounce) can peeled tomatoes, drained
1 jalapeno chili, or to taste, chopped
2 (12-ounce) cans evaporated milk
6 to 8 cups (24 to 32 ounces) shredded Monterey Jack Cheese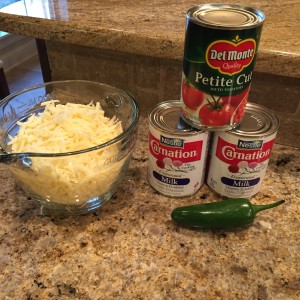 Directions:
Cook the butter and onion in a large saucepan until the butter melts, stirring constantly

Add the flour and mix until combined

Stir in the tomatoes, jalapeno chili and evaporated milk and cook until heated through, stirring frequently, do not boil

Remove from the heat and add the cheese, stirring until melted
Another recipe that is sure to be a hit among all age groups is the "Everything But The Kitchen Sink" Bar Cookies from the Mardi Gras to Mistletoe cookbook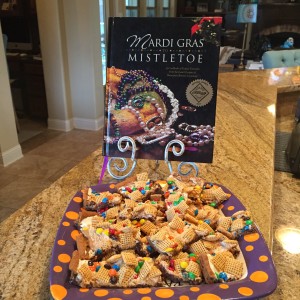 Recipe: (Makes 3 dozen bars)
Ingredients:
1 (18-ounce) roll refrigerator chocolate chip cookie dough
1 (7-ounce) jar marshmallow crème
½ cup creamy peanut butter
1 ½ cups corn Chex
½ cup M&Ms Chocolate Candies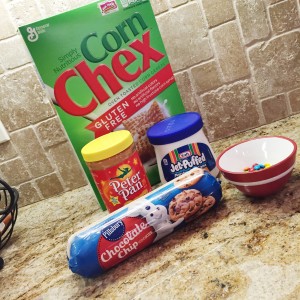 Directions:
Pat the cookie dough over the bottom of a greased 9×12 inch baking pan

Bake at 350 degrees for 13 minutes

Drop teaspoonfuls of marshmallow crème and peanut butter over the top of the baked layer and bake for 1 minute

Carefully spread the melted marshmallow crème and peanut butter over the top

Sprinkle with the cereal and chocolate candies and bake for 7 minutes longer

Cool in the pan on a wire rack and cut into 2-inch bars