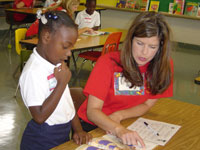 Paired Reading is a reading mentoring program pairing Junior League of Shreveport-Bossier  volunteers and first graders at Atkins Elementary in Shreveport. Junior League members read with the same 3 students every week, once a week, for approximately 3 months.
Members who have had the opportunity to volunteer in the Paired Reading program often cite it as one of their favorite experiences during their membership , due to the personal reward of bonding with the student and watching their confidence and reading skills improve throughout the sememster.
Each student takes a new book home each week.  Teachers and staff at Atkins Elementary have seen marked improvement in test scores from those students that have participated in the program.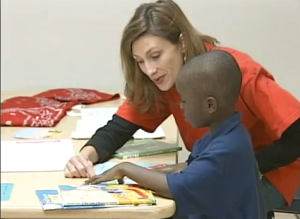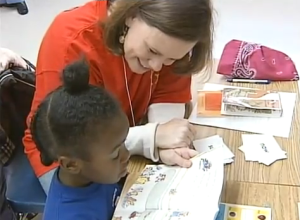 According to the Department of Education, the size of a child's vocabulary is an extremely strong predictor of his or her success in school.  Knowing how to read is one of the most fundamental skills a child needs to succeed in both the academic and real world. Research shows that a lack of child literacy correlates directly with academic failure, substance abuse, unemployment, and financial difficulties later in life, all of which influence one's life negatively. Without the ability to read properly, children lose an essential part of their connection with the world around them, which can result in problems in school. Providing books to children has been proven as one of the best ways to promote language and child literacy. Statistics also indicate that owning books is a critical facet in every child's intellectual development and that children with many books at home are eight times more likely to list reading as one of their favorite activities.
The goal of the Junior League of Shreveport-Bossier's Paired Reading program  is to instill a lifetime love of reading in these children, enabling them to pursue future academic success.