Though cold is a relative term in Louisiana, February is one of our coldest months, but that doesn't keep the celebrations inside. People line the streets by the thousands for a chance to shout, "Throw me something, Mister!" in hopes of catching more beads than can possibly be carried home.
Traditionally, Mardi Gras had little place in the more Protestant North Louisiana, but in recent years, thanks to the irresistible influence of our carnival-loving neighbors to the south, the festival has expanded its traditional boundaries. More than a dozen Mardi Gras Krewes now call the area home, and parades as spirited as any in New Orleans are now found right in our own backyards. The most notable and favorite in the area are the parades of the Krewes of Centaur, Gemini, and Highland in Shreveport, Akewa in Minden, and Dionysos in Natchitoches. In addition to having fun, several Krewes focus on supporting charitable endeavors, including the Krewe of Barkus and Meoux, dedicated to helping abused and neglected animals; the Krewe of Harambee, with a goal to increase minority participation in and support of Sickle Cell Anemia Foundation; and the Krewe of Sobek, whose members give back to the community through charitable donations and community service.
All month long the people of Northwest Louisiana celebrate their unique culture and traditions with food at the center of it all. Whether for fun or for love, it's hard to resist the tantalizing tastes that February brings.
Jambalaya is guaranteed to be a hit at any gathering you attend this month, or any other month.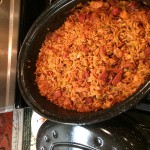 Recipe: (serves 8 to 10)
Ingredients:
3 to 4 pounds shrimp, cooked, peeled and deveined
1 pound andouille, sliced
1 cup chopped green onions
1 cup fresh parsley, finely chopped
¾ cup chopped bell pepper
2 cups uncooked rice
4 bay leaves
1 (10-ounce) can French onion soup
1 (10-ounce) can beef broth
1 (8-ounce) can tomato sauce
½ cup water
1 teaspoon salt
½ teaspoon cayenne pepper
Black pepper to taste
½ cup (1 stick) butter or margarine, cut into pieces
Directions:
Layer the shrimp, sausage, green onions, parsley and bell pepper in a deep baking dish.

Top with rice and bay leaves.

Mix the soup, broth, tomato sauce, water, salt, cayenne pepper and black pepper in a bowl and pour over the prepared layers.

Dot with the butter.

Bake, covered with foil, at 350 degrees for 1 ½ hours.

Discard the bay leaves and spoon the jambalaya into bowls.
May prepare several days in advance and store, covered, in the refrigerator. Reheat before serving. Or, freeze for future use.
May substitute 1 shredded cooked chicken or 2 shredded cooked ducks for the shrimp.
Party Sandwiches from the Mardi Gras to Mistletoe cookbook are guaranteed to be a hit at any gathering you attend this month, or any other month.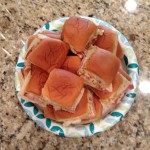 Recipe: (Makes  2 dozen sandwiches)
Ingredients:
1 (24-count) package party rolls
½ cup (1 stick) butter
¼ cup prepared mustard
1 to 2 tablespoons poppy seeds
1 tablespoon dried minced onion
8 ounces sliced ham
8 ounces thinly sliced Swiss cheese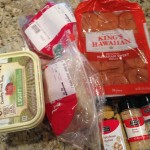 Directions:
Split the rolls horizontally into two layers; do not separate into individual rolls.

Melt the butter in a saucepan and stir in the prepared mustard, poppy seeds and onion.

Spread the cut sides of the rolls with the butter mixture.

Layer the sliced ham and sliced cheese over the bottom roll layer, adding additional layers as desired.

Top with the remaining roll layer.

Wrap the stuffed rolls in foil and place on a baking sheet.

Bake at 350 degrees for 15 minutes.