December marks the official beginning of winter and the end of the year. Most often, however, when
you think of December, you think of Christmas. The spirit of Christmas, generosity and goodwill towards others, is also found in the celebrations of most other religions. So whether you celebrate Christmas, Hanukkah, Kwanzaa, or another December holiday, you're bound to be touched with warmth and good cheer.
The American Rose Center is transformed into a world of lights each year. Its Christmas in Roseland celebration offers a fantasy wonderland of lights, holiday scenes, and nightly entertainment beginning the day after Thanksgiving and lasting throughout the Christmas season. To prove that smaller can be better, the Claiborne Christmas Festival, held the weekend after Thanksgiving in Homer, promises a full day of fun and Christmas spirit for the entire family.
Nowadays, many people are back into their normal routines before the mistletoe is even wilted, but
don't forget that the holiday season actually lasts until January 6th, which means the Twelfth Night
celebration kicking off Mardi Gras is just around the corner!
Chocolate Pecan Pie is a classic dessert from our Revel cookbook that the whole family will love.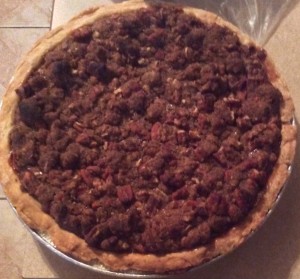 Recipe: (Serves 8)
Ingredients:
2 squares unsweetened chocolate
3 tablespoons butter
1 cup light corn syrup
¼ cup sugar
3 eggs, slightly beaten
1 teaspoon vanilla
1 cup chopped pecans
Whipped cream
1 unbaked 9″ pie shell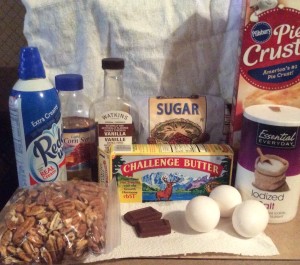 Directions:
1. In a double boiler, melt chocolate and butter together.
2. In a separate pan, combine corn syrup and sugar.
3. Simmer 2 minutes.
4. Add chocolate mixture and cool.
5. Add salt to eggs.
6. Slowly dribble syrup mixture into eggs, stirring constantly.
7. Blend in vanilla and nuts.
8. Pour into shell.
9. Bake at 375 degrees for 35 minutes.
10. Serve with whipped cream.
—–
Another dessert recipe the whole family will love is Candy Cane Snowballs from Mardi Gras to
Mistletoe.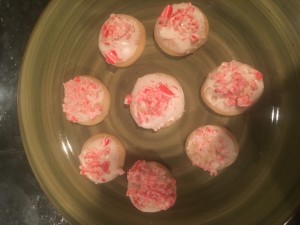 Recipe: (Makes  5 dozen cookies)
Ingredients:
2 cups (4 sticks) butter, softened
1 cup confectioners' sugar
3 ½ cups of all-purpose flour
1 cup of chopped pecans
8 ounces white candy coating, chopped
1/3 to ½ cup of crushed peppermint candy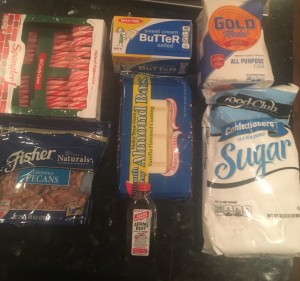 Directions:
1. Beat butter and confectioners' sugar in a mixing bowl until creamy, scraping the bowl occasionally.
2. Stir in vanilla.
3. Add the flour gradually. Beating constantly until blended.
4. Stir in the pecans.
5. Chill, covered, for 3 to 4 hours or until the dough is easily handled.
6. Shape the dough into 1 inch balls and arrange the balls 2 inches apart on an ungreased cookie sheet.
7. Bake at 350 degrees for 18 to 20 minutes or until light brown.
8. Cool on the cookie sheet for 2 minutes and remove to a wire rack to cool completely.
9. Place the candy coating in a microwave-safe bowl and microwave until smooth, stirring occasionally.
10. Dip the top of each cookie in the candy coating and then in the crushed peppermint candy.
11. Let stand on a wire rack until set.